PROJECT ANGEL FOOD LAUNCHES STATEWIDE PILOT PROGRAM
Project Angel Food is launching a new state pilot program to benefit low income Californians with Congestive Heart Failure (CHF) in April 2018. Governor Jerry Brown funded the first year of the three-year $6 million pilot program to prove our medically tailored meals can reduce health care costs for Medi-Cal recipients. Project Angel Food and five sister agencies, Project Open Hand, Mama's Kitchen, Ceres, Food For Thought and Health Trust, make up the part of the pilot and the California Food is Medicine Coalition.
The purpose of this groundbreaking pilot is to prove our medically tailored meals and medical nutrition intervention can reduce hospital admission rates and health care costs within a 12-week period. Participants in the pilot will receive 100% daily nutrition which includes breakfast and two entrees for 3 months. They will also be provided with intensive medical nutrition therapy including two in-home visits by a Registered Dietitian and two follow up telephone calls.
This is the first time any State has funded a pilot of this kind. Richard Ayoub, Executive Director Project Angel Food said, "This new statewide program will usher in a new era for Project Angel Food. At the end of the program there will be a published finding definitively proving our nutritious meals reduce health care costs."
State funding will be provided and administered by the California Department of Health Care Services. As part of the state directive, Project Angel Food and its five sister agencies will collectively serve 1,000 Medi-Cal patients with CHF for the three years of the pilot, with each of the agencies serving 60 participants per year. To measure hospital utilization, patients must receive their first meal within 7 days of being discharged from a hospital. During the preliminary year, Project Angel Food will target patients living in San Fernando Valley, Metro LA, and South LA.
Our key partners include L.A. Care Health Plan, who provided us start-up funding to implement the pilot. Part of the startup funds from L.A. Care funded the purchase of our first ever refrigerated van. In addition to L.A. Care, we have formed referral partnerships with Kaiser Permanente Panorama City Medical Center, Martin Luther King Jr. Community Hospital, Providence Saint Joseph Medical Center, and LAC+USC Medical Center. We are planning to secure more partnerships to ensure we serve all participants who would benefit from this intervention and pilot.
All of this was made possible through the concerted collaborative efforts of the California Food is Medicine Coalition and support from our elected officials. It took only four months from advocacy to budget approval, an unprecedented feat in today's landscape. State Senator Mike McGuire worked with the California contingency of the Food Is Medicine Coalition to obtain the funding. Strong support for the program came from powerhouse Los Angeles figures State Senator Holly Mitchell (District 30, Los Angeles – D), State Assembly Member Blanca E. Rubio, (District 48, Baldwin Park), State Senator Ricardo Lara (District 33, Bell Gardens), State Senator Richard Roth, (District 31, Riverside), Assembly Member Richard Bloom (District 50, Santa Monica) and State Senator Ben Allen (District 26, Redondo Beach).
Participation in this pilot marks a new iteration for Project Angel Food as the organization becomes research driven, adding a new dimension to the charity which has served the community for the past twenty-nine years, providing more than 11 million meals to men and women living with critical illness and preparing over 11,000 meals a week. For more information about the pilot program please CLICK HERE.
Project Angel Food is part of the Food Is Medicine Coalition, a national association of nonprofit, medically tailored food and nutrition services providers for people with severe or chronic illnesses.

For 28 years this belief has brought out the best in our community. United in one mission - annually 3,100 volunteers prepare and deliver free, nutritious meals to men, women and children living with life-threatening illnesses.
Project Angel Food is the only community-backed agency providing free, medically tailored meals for people living with life-threatening illnesses throughout LA County; we cook and deliver 11,000 meals every week. That's over 11 million meals since our founding in 1989.
None of it would be possible without the generous support of folks just like you. Throughout Los Angeles County there are students and retirees, veterans and business people, civic leaders and individuals with disabilities coming together to help.
Today, we're asking for your help. A gift of $35 will provide 1-week of nourishing meals to a neighbor in need. As a thank you, we'd like to provide you with a volunteer-made bracelet to wear as a symbol of your commitment to feeding those in need.
MEET MOLLY...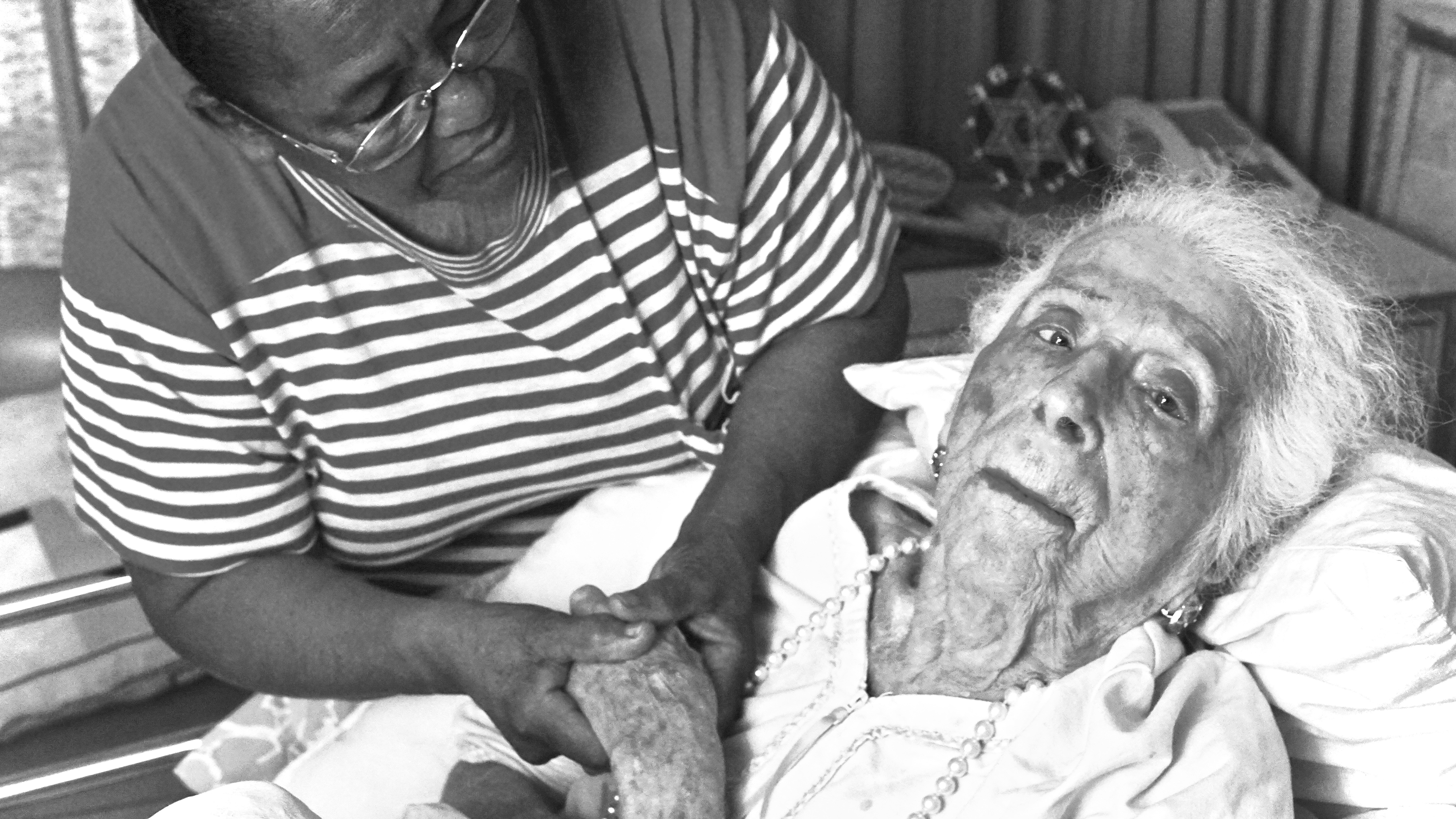 UPDATE: We're sad to report that our eldest client, Molly L., passed away peacefully in her sleep on February 27, 2018, at the age of 108. Molly was on service for nearly one year. We offer our condolences to Molly's daughter Madeline and caregiver Sadie. We will miss you, dear Molly!
---
Imagine if your elderly mom or grandma were sick and you weren't able to make her the meals to comfort her. Project Angel Food does that for thousands of clients every year. LA's population is getting older and they need Project Angel Food now, more than ever.
We consider it a privilege to take care of someone in their golden years. They've worked all their lives and now it's our turn to give back.
Take for example, Molly. She is 108 years old with end-stage dementia, and the oldest client in Project Angel Food's history.
Madeline, Molly's daughter says:
"Project Angel Food came at the time we needed them the most. You can't imagine the pressure it's taken off of me and my family, that my beloved mom is getting all the food she needs for her final days."
Molly used to sing in the choir, play the piano and dance for every occasion. She loved jewelry and shared that love by working in a jewelry store. Molly was a savvy businesswoman, but more than anything, she cared for her family.
To Molly, family came first.
When Molly got dementia, she was determined not to let the illness ruin her life. But with no cure for the disease, reality set in. Before long, Molly began to forget things. She could not recognize her two daughters and the other people she loved in her life. And she could hardly communicate anymore.
Now, bedridden and very frail, she just barely has the energy to sit up for small amounts of time.
But Molly is lucky because her caregiver, Sadie, takes care of her. And Project Angel Food is there to help.
Caregiver Sadie says:
"Molly doesn't have the energy to eat solid food but she can eat soft food. She loves the meals and always smiles when she eats them. The aroma from the food after I heat it always lifts Molly's spirits."
Molly is a resident of Los Angeles, which has the second largest aging population in the country. Between 2010 and 2030, the older adult population in the Los Angeles region is expected to almost double, from approximately 1.1 million to more than 2.1 million individuals. The greatest growth is occurring in the oldest age groups - just as it is with Project Angel Food.
In just one year, our senior population increased from 1,079 to 1,247. Of the people we serve, 57% of those are 60 and over. And more than half of our clients live alone, with no one to care for them.
Your support makes is possible for us to provide nutritious meals and sustenance to frail, homebound clients like Molly, and relief to caregivers like Sadie. Family members and caregivers can focus on helping their sick loved ones with their medications and other needs, and free up time to spend every precious minute together.
"Project Angel Food is a blessing for Molly and for me, her full-time caregiver. I have peace of mind because I know Molly is getting nutritious, healthy meals that she enjoys eating."
Additionally, your support will help us ensure clients have weekly interaction with our drivers, who deliver seven days of meals at a time all year round throughout LA County. Our delivery drivers could very well be the only physical contact our clients have for that day or even that week. To clients and caregivers alike, drivers become the vessel of love, bringing comfort and peace to feed the soul and nourish the body.
"Project Angel Food driver Javier is always on time and always has a smile and a gentle manner. It is a pleasure to see him every week and know that he is doing the same for clients in need."
Just as we were a lifeline to people dying from HIV/AIDS in the 1980s, we will continue to be there for Molly and thousands like her in their time of need.
Will you join our journey of compassion and love by donating today? Your gift will help us continue our mission to provide lifesaving food, nutritional counseling and love to Molly and other vulnerable, critically ill clients. For Life, for Love, for as Long as it takes...
Click here to support Molly and others like her.
Delivering Food, Hope & Kindness to Food Insecure Breast Cancer Clients
What does breast cancer have to do with food insecurity? Much more than many of us may think.
Did you know that nearly 1 in 8 American women are diagnosed with breast cancer over a lifetime, and that the associated costs can be financially devastating, leaving one-third of working age cancer survivors in debt and 3% forced to file bankruptcy? News of a breast cancer diagnosis can pose unique challenges for low income women, with a recent study suggesting they are four times more likely to lose their jobs after diagnosis compared to their high-income peers.
With 31% of Los Angeles County's population living well below the federal poverty level, those undergoing treatment for breast cancer are often left to choose between their next meal or keeping up with their quickly-accumulating medical bills. They may also forego healthier meals, opting instead for cheaper canned foods that provide little in the form of nutrition.
Project Angel Food's population is even more food insecure—
97% of clients live at or below the federal poverty level.
Through generous ongoing support of the Avon Foundation, we are able to hand-deliver nutritious medically tailored meals to some of the county's most vulnerable breast cancer residents for absolutely free. Our food is a lifeline to our breast cancer clients who depend on us to recover and manage their illness.
As one our top funders for 13 years, Avon Foundation's $1,147,295 in contributions has helped Project Angel Food provide 686 breast cancer clients with lifesaving meals since January 2003.
Holding back tears, new client Maria S., upon receiving her first delivery said, "You are all definitely angels. I thank God for your service. You are really a big help for me at this time."
Cancer treatments can take a toll on a person's physical and emotional wellbeing. In a recent study, it was suggested that those with stronger social networks may have better treatment outcomes compared to those who are more isolated. Our delivery drivers are an integral part of our program, arriving with healthy food, warm smiles, and kind words. Because this may be our clients' only social interaction of the day, we place great emphasis on the client-driver relationship – making sure to shower our clients with special touches on holidays, their birthdays and Mother's Day.
Take for example, Cecilia, a breast cancer survivor and Project Angel Food success story:
Cecilia M. was 56 and living alone when she was blindsided by Breast Cancer diagnosis. Cecilia became a client of Project Angel Food in February 2016 and quickly came to depend on our nutritious meals. Having no energy to cook after chemotherapy, she sought comfort in our meals and the weekly interactions she had with our driver Bert. During a very low period, Cecilia greatly appreciated the unexpected birthday bag she received from Bert. Moved to tears by our thoughtfulness, Cecilia thanked everyone involved with Project Angel Food and remarked, "You are delivering more than just food, you also deliver kindness and hope." In February 2017, Cecilia called to say she was feeling better and left our program because she was well enough to go back to work.
As we enter our 28 years of service, we are grateful to the Avon Foundation for their enduring, instrumental support in our efforts to restore and sustain our breast cancer client's health. On September 10, 2017, we participated in the grant ceremony at the AVON 39 The Walk to End Breast Cancer in Santa Barbara, its 15th annual event series that raised $4.1 million from the 1,600 fierce AVON 39ers who walked with blood, sweat and tears for 39.3 miles to take down breast cancer.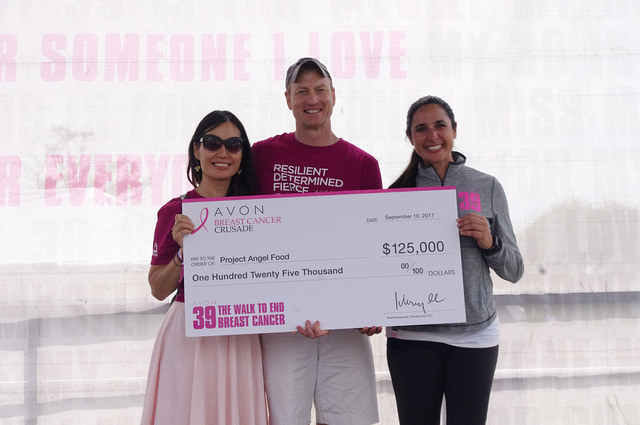 Photo (From L-R, Mona Lee, Associate Director of Institutional Giving and Communications, Bobby Ralston, Board Chair, Jill Surdyka, Director, Communications and Community Engagement, Avon Breast Cancer Crusade)
*We also want to thank Susan G. Komen and the Johnny Carson Foundation for helping us provide nourishment to our breast cancer clients. Together support from these foundations have a tremendous impact in fulfilling our mission—bringing hope and comfort to clients struggling with breast cancer during a very difficult time.
#fierceisforever #lifesaving #foodislove #foodismedicine #breastcancer #AVON39